Welcome
We are a theatre company ideal for the heritage industry. We write and perform plays that are subject and site specific.
We are experienced professional actors, historical interpreters, educators and providers of bespoke historical theatre, drawing on a wide range of styles.
About Time Will Tell
We are passionate about history and theatre and our aim is to provide audiences with a sense of the drama of history, but a history that is relevant to them.
We carefully and sensitively research before creating our work but our aim is always to amuse and provoke our audiences to want to know more. Our audiences are never simply passive bystanders, they are active participants immersed in the stories we present and encouraged to express their views.
Discover what's new for 2019 ►
Project:
A History of Heritage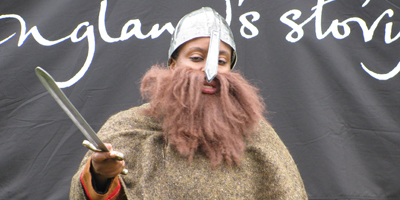 Written for English Heritage in 2013, "A History of Heritage" makes a welcome return.
"A History of Heritage" takes a breakneck romp through history from the Stone Age to the present day to look at how important we have historically treated old buildings and monuments.
Discover ►
Project:
1066 – The Battle Royal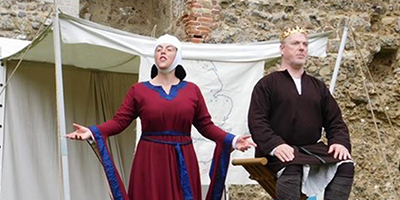 Back by popular demand our play about the most famous of years, 1066, is back at Battle Abbey for English Heritage.
Commissioned by English Heritage we investigate the battles and eventually conquest of England, presented in our usual style we hope to uncover what really happened in 1066.
Discover ►
Project:
St. George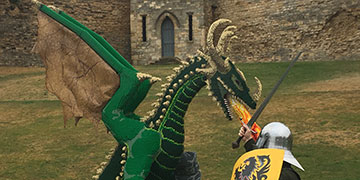 Hero? Martyr? England's Protector? How did an officer in the Roman army who died for his Christian beliefs and killed a dragon gain his place as a saint of a land he never visited?
Join St. Margaret's School for Medieval Sainthood as a candidate with George to see if you've got what it takes. Warning. Experience of torture, pain, multiple deaths and miracles will be expected. Have you got what it takes? Will George make the shortlist? Watch and find out.
Discover ►
TWT Facebook
Subscribe to our Mailing List: