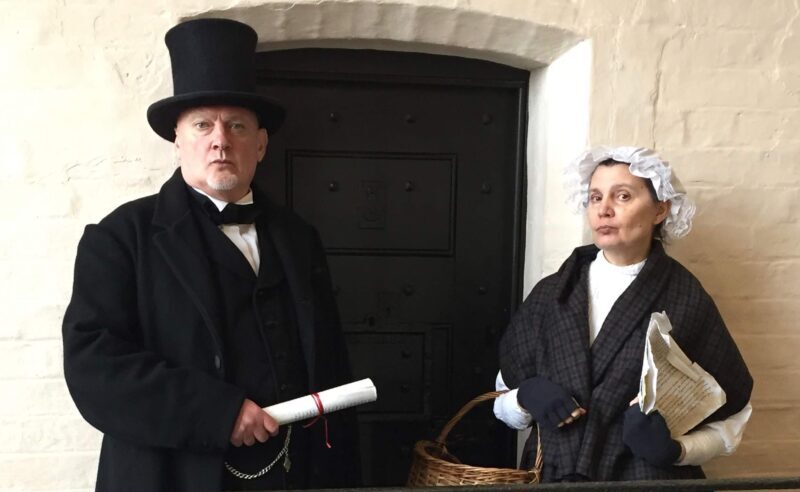 Lincoln Castle & Prison
For the last six years we have worked with Lincoln Castle and Prison in a variety of capacities; we have performed plays like 'The Search for St. George' and 'Will the Real Robin Hood Please Stand Up' amongst others, we have provided commentators for a variety of events, added a dramatic element to recreations of the Battle of Lincoln, led royal visits as King William or King John, portrayed Nichola de la Haye, the woman who held Lincoln Castle in its darkest hour, and we have created a range of characters that are performed within the prison.
Researching the history of the prison, the lives of the staff, and the inmates was a fascinating insight into the Victorian world. Visitors were intrigued to hear the story of the prison from live characters, so we carefully created characters who were from the brief life of the prison and beyond, from the optimistic social theories that led to the Separate System, to the bizarre conditions for the staff, the closing of the prison and its subsequent use in the First World War. We've placed the prison firmly in the context of the history of Lincoln, and since its original performances, we have amended the script annually to reflect changes in the interpretation of the prisons story.
Working closely with the Events Team at the prison we have also provided Victorian characters such as The Sewerage Engineer, The Laundry Lady, Fish seller, Pure collector and a number of prisoners based on actual historical inmates, and a judge, to invite visitors to make comparisons between modern day law and its Victorian counterpart.
Our relationship with Lincoln Castle is one of our most cherished. We work closely with the Events Team to try to realise their ideas and offer suggestions as to how we might be able to compliment their annual theme. We have spent weeks in Wonderland with Alice, run a Chocolate Shop, and facilitated their Easter trails. We have provided them with a Father Christmas for the last five years who has had the pleasure of watching families return from year to year. It is a special place, and we always look forward to finding out what their plans for next year are!
Project Overview ►